This evening the Knox County Republican Party held theit Annual Knox County Lincoln Day Dinner. It was held at Rothchilds Catering and Confernce Center. Mr. Nathan and Susan Rothchild delivered an exceptional meal with an elegant setting as always.
Former Governor of Missippi Haley Barbour was the Speaker. Over 400 attended. With only a city election in 2015, Mayoral Candidate Buck Cochram and City Judge John Rosson wwee in attendance.
In what appeared to be a coordinated effort, Jeff Ownby, John D King and Jim Weaver were campaigning as a team, the j3 team, if you will.
The candidates in their races were present as well,
Knoxville businessman, community activist, happily married husband of one wife and father Hugh Nystrom, candidate for the Fourth District County Commission seat.
Commission Chairman, happily married husband of one wife and Father to Addy, Brad Andears.
Former Property Assessor, happily married husband of one wife, father of three and grandfather John Whitehead.
Thesee three individuals were not jumping up and down for attention like the other three recognizing the election is more than 10months away.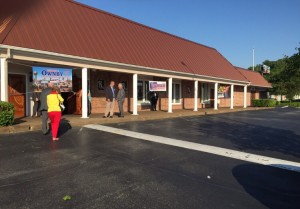 Ownby is challenging Hugh Nystrom, King who last year garnered less than 8,000 votes against Senator Lamar Alexander and Weaver attempting to best John Whitehead, Andrew Graybeal, Barry Hawkins and others.
Weaver's boss Phil Bsllars's cell phone interrupted with some weird ring tone during Barbours talk. The picture below is Ballard checking his phone. Ballard along with Property Assessor and fellow Black Wednesday Commissioner Craig Leuthold were wearing Weaver stickers.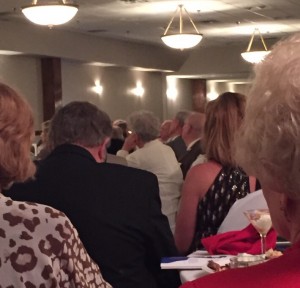 TN Republican Party Chairman and my State Representative was present and made a brief but significant talk about unifying against the Obama liberal policies and building the party with a younger generation. Which a significant portion of the attendees were younger folk.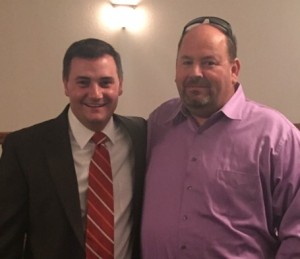 It it was great to see State Representative Jimmy Matlock, Chairman of the TN House Transportation Committee present. Matlock represents Loudon and Monroe Counties. He operates a successful family business in Farragut, Lenoir City, Maryville and Athens, Matlock Tire Service.
Knox County Trustee Ed Shouse did a great job Co-Chairing this years Lincoln Day Dinner.