A friend of mine has been asked, why I refer to the incumbent Fourth District Knox County Commissioner as the incumbent fourth district commissioner. In my opinion, Knox County's Fourth District has two great candidates for the Republican Nomination for County Commission on March 1, 2016. They are Hugh Nystrom and Janet Testerman, the third candidate is the incumbent. Here is why, I do not refer to him by name. In my opinion, he is untrustworthy and he does not tell the truth. Let me show you where I get the information to base my opinion.
I can supply you many, many links to Internet news sources, but for briefity let's use two or three Knoxville News Sentinel stories. In this story we learn that on May 25, 2012 KPD was called to Sharps Ridge due to complaints of illegal activity and during an undercover sting the incumbent was observed engaging in a public chargeable, arrestable offense and he was. A few days later, in this article, his Attorney speaking on his behalf said that the incumbent intended to plead not guilty. The comment was "Commissioner Xxxxx intends to enter a plea of not guilty to the allegation." Fast forward almost a year, this Knoxville News Sentinel article from just two years ago, the incumbent plead no contest to the charges, he was ordered to pay $500 in fines, court costs and he had to submit a letter of apology to the Commission and the citizens of the fourth district.
In August 2013, the incumbent attended the meeting of the Center City Conservatives Republican Club. In October 2013, a lawsuit titled Kuhlman-v-Hornback was filed and brought to the court. That lawsuit ended the first of September 2015 with a ruling of Summary Judgement for Defendant Hornback. On September 25, 2013 the incumbent swore an affidavit in support of the Plantiff that said she did not say the things attributed to her, he stated the attribution was false and that no one at the meeting said those attributable things. (A picture of the court filed affidavit is below) Had the incumbent swore he did not hear her say the things alleged, that could be accepted and tolerated. However, there were three sworn affadavits in support of the Defendants posting that said the comment was made by the Plantiff.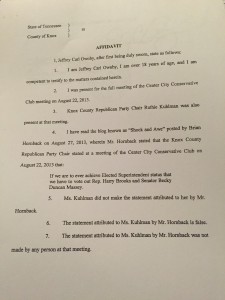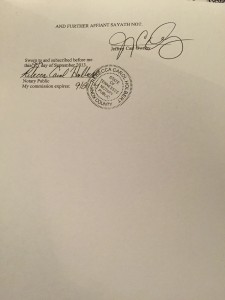 I do not make it my practice to associate or support individuals that on multiple occasions have been loose with the truth. This is why I will not refer to the incumbent by his name, this is why I will not accept advertising from his campaign. I sincerely hope that when the Republicans in Knox County's Fourth District go to the polls beginning on 2/10/2016 and with the Primary election on 3/1/2016 that they will make the incumbent, the former one term County Commissioner of the fourth district.