This morning I checked Tyler Overstreet's Facebook and a photo I took of State Rep. Kent Calfee over breakfast on May 26, 2016 was used in a political attack.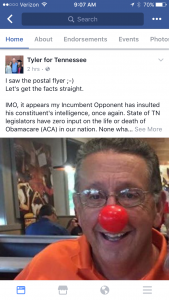 I had purchased several red noses for Red Nose Day 2016 and Rep. Calfee participated in a fun manner.
Now in my humble opinion the low life Overstreet uses it on his Facebook and I wouldn't be surprised if it doesn't need up on a mailer.
Here is what Rep. Calfee and I contributed to; over 860,000 children in Africa given life saving vaccines, over 47,000 people with mental health condition in the U.K. to get the support they need, over 310,000 children, young people and their families at risk of abuse, violence and exploitation internationally to lead safer lives.
As for Overstreet, the Roane County News tells us here and we will find out through court action about Overstreet.
Rep. Calfee I apologize for my efforts to be used by your low life opponent as a political stunt. I won't subject you to it again. BUT on March 24, 2017 I will contribute again on your behalf. Because lives were changed for the better.