Saturday March 4 is a National March 4 Trump and there will be a local Knoxville observance. Check out the Facebook event page here.
The East Tennessee March4Trump/Spirit of America Rally will be from 12:00 noon to 4:00 p.m. at Victor Ashe Park, 901 Bradshaw Rd, Knoxville, Tennessee 37912.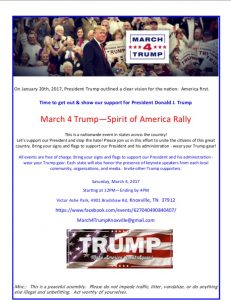 The primary goal of this rally (along with the DC and other nationwide rallies being held on this date) is to set aside our differences and unify, as One Nation Under God, in honor of The United States of America and for all Americans of diverse backgrounds and beliefs regardless of their political affiliation. These are truly grass root events inspired by individuals who collectively are wanting to come together as a nation with a simple message: "Stop the Fight. Let's Unite"
The National March4Trump website is here, The Twitter account is here.