Tomorrow (Tuesday April 18, 2017) John Gray will release I am Number 8 by Center Street. If God can take David–the invisible eighth son of a forgotten family–and turn him into a king, just imagine what magnificent plans He has for redeeming your life. Gray also was the eighth child in his family.
In this book he details who is number 8, the field of favor, there's oil in the field, in search of a hero, the long walk home, sheep, lines, bears and giants. Big Me / Little King, Dear Dad, Scavenger Hunt, Hearts and Parts, My turn, God's Time, Blind Spots, Worshipping Wounded and I can't believe I'm Here.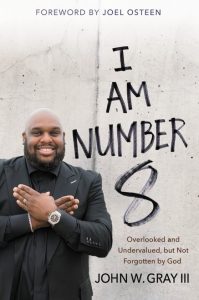 John W. Gray III is the associate pastor of America's largest church, Lakewood Church, in Houston, Texas. he preaches Lakewood's midweek service, where attendance has quadrupled in the last several years. He is also a featured keynote speaker, emcee, and comedian for "Acquire the Fire" youth rallies held in arenas all over the United States.