Okay, back at the Knox County Democrat Reorganization, the vote for the male representative for Ninth district Board of Governors was a tie. They flipped a coin and Robert Bratton was apparently the winner of the coin toss.
Well, someone decided they could not accept a coin toss. So they determined that they would leave it up to the South of the River Democrat club. At that meeting, Bratton prevailed in a vote of 8-6.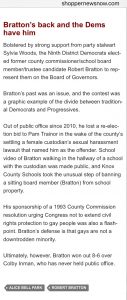 But not so fast, last night the Knox County Democrat Board of Governors refused to seat Bratton. I am still working to receive some written correspondence before last nights meeting.
But what I do have is;
Former Chairman Cameron Brooks sent the text below to South Knoxville Democrat Sylvia Woods and supposedly Linda Haney and potentially others.
Bratton in responding to someone who pledged to support him on April 18 but voted against him last night said in part "lynch mobs are seldom run by brains or hearts they are run by fear and hated." Bratton concluded with "Good luck in the Future"
Several individuals involved in last nights proceedings has reached out to Bratton this morning and apologized saying they have reviewed a video (after the meeting) that "Sweaty Cammie" aka Cameron Brooks was talking about and it is not what Brooks presented.
Also, last night, several people encouraged Bratton to stay engaged in the party, but not on the Board of Governors. That is akin to the days of desegregation, when the blacks were told you can ride the bus, but only in the back of the bus.
Bratton is not someone you want working against you, on the inside of an organization. Sweaty Cammie Brooks and his cast of minions are hung up on a vote Bratton made in 1993 while on the County Commission. Twenty Four years ago! Bratton has been elected to political office three times since then, a feat that Brooks has NEVER accomplished. A feat that his besty Gloria Johnson did once and has lost three times. Once for State Senate, twice for State House.