James Corcoran, Third District Knoxville City Council candidate has chosen the readers of www.BrianHornback.Com to receive his campaign message. His ad is on the left side of your monitor and when you click on the picture of James, his wife and twins, you will be connected to his campaign Facebook page. Corcoran's Facebook page is here.
The third district is currently represented by Brenda Palmer, she is term limited and is ineligible to run for another term. The third district is the area of Northwest Knoxville. Corcoran is a licensed attorney in Knoxville, Tennessee. He has devoted particular attention in his practice to child welfare law, representing parents and children in cases dealing with drug abuse, and severe child abuse. Corcoran hopes to bring his perspective of this drastically under-served portion of the Tennessee population to bear in the City Government. Corcoran is a believer in conservative fiscal values.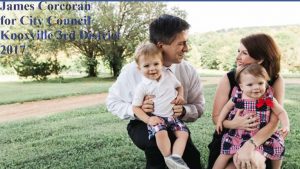 The primary election is August 29.  Early Voting is August 9 through 24, 2017. Registered voters in Knoxville's third district will vote for one candidate. The top two vote getters will then appear on the ballot citywide on November 7, 2017. The recipient of the most votes citywide on November 7, will represent the district for four years as City Councilman.