Another FaithWords a Division of Hachette Book Group release is a Kent R. Hunter book Who Broke My Church? 7 Proven Strategies for Renewal and Revival. The timing for this one is ideal and I will be consuming it as it is relevant to my current situation in my life.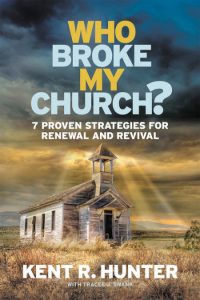 Based on a survey of 75,000 people in churches from 65 denominations and 5,000 one on one interviews, Who Broke My Church? clearly shows what is actually working in churches that are efficient, effective and thriving and why. The secret to breakthrough is not another program. It is reclaiming spiritual DNA. The "church" becomes people being the church everywhere, all the time. The result is revival, a movement of God.
Hunter is the founder of Church Doctor Ministries and has consulted with more than 1,700 churches from 65 denominations during the past 35 years. He has spoken at hundreds of conferences in the US and around the world. He is the author of 30 books on the subject of church health, vitality and the effectiveness of the church. He and his wife, Janet, live in northeast Indiana.