Seema Singh Perez the runner up to James Corcoran in Knoxville City Council Third District and Rebecca Parr the runner up to Stephanie Welch in Knoxville City Council First District both are promoting their endorsements from the Democratic Socialist of America Knoxville.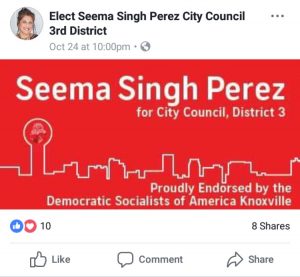 I don't know anything about the group BUT the word Socialist normally means Russian and while it's hard to imagine why Russia was involved in our National 2016 Election, why would they now be interested in a 2017 Knoxville, TN City Council election or two?
Our National, State and local elections are based on a representative form of government, not a dictatorial Socialist form of government. Have these two candidates vowed to change our form of government?