A Big Crowd attended the Concord Farragut Republican Club last night to hear from Justin Biggs, Candidate for Knox County Commission at large Seat 11 and Lee Tramel, Candidate for Knox County Sheriff.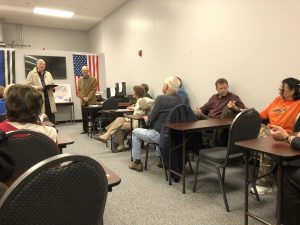 Biggs is a candidate unlike Knox County has seen in a while. He is a young Professional, his wife is a business owner, they have a 16 year old and a 9 month old. It is time for a newer perspective to have representation on the Countt Commission. Not just another retread to repeat the ways of a decade ago with the Commission.
Tramel is a law enforcement professional, who has helped guide the department where it is today.
Below, I take you into the meeting to hear their remarks.
Justin Biggs
Lee Tramel