Tonight, the West Knox Republican Club hosted the four candidates for Knox County Commission at Large. Seat 10, Larsen Jay and Ron Rochelle. Seat 11 Justin Biggs and Robert Lawrence Smith. Each candidate was told they would have 5 minutes. Jay concluded with 4:58; Rochelle with 6 minutes; Biggs with 3:08 and Smith with 11:30, the clubs vice president and president decided not to allow questions and answers so the meeting could adjourn by 8 p.m..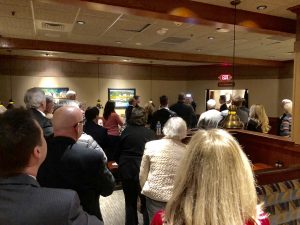 Jay talked about his background, he talked about Knoxville being his home for 25 plus years, having a wife and two sons. After being successful in the film industry and he has learned servant leadership. Knoxville has three areas rural, urban and suburban. But they must be served by same schools, law enforcement and as a County Commissioner he wants to keep Knox County.
Prosperous – low taxes with great quality of life.
Safe – Work with law enforcement and first responders.
Healthy – Mental Health and Opioid Addiction.
Rochelle painted Knox County as a government in a mess, with $711 million in debt. Chattanooga is passing us by. Natural growth will give the county $6 million dollars, that won't touch it.
Biggs said he is a new vision for Knox County. Biggs said he is not a politician, he has not served his maximum number of terms and running again. Working on safer neighborhoods and a better wage so that we will be more attractive. Put more money back into the school system. Vote principles and not politics. Do your investigation on both candidates for seat 11, you will not find he is under any type of investigation.
Smith talked about all the boards he has served on and his commission service a decade ago. He did not address this from July 28, 2010, this from March 7, 2017 or this from January 12, 2018.