Political signs don't vote (especially on commercial property or right of ways) However, signs are a necessary evil in building name recognition and show support.
The antics of supporters like this in West Knoxville is just unnecessary and makes the supporters of the other candidate mad….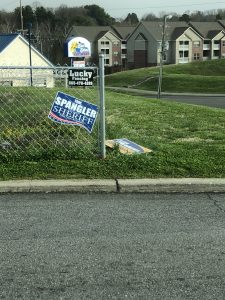 A couple years ago, the individual that provided (printed and sold them) Martin Daniels's signs was caught pulling up James Corcoran and Steve Hall signs and laying them down. The individual was caught on video and KPD investigated it. But that incident set into motion Candidates this year setting up cameras. More to come on that…….