Knox County Mayoral Candidate Glenn Jacobs commends the Knox County Ethics Committee for standing firm and seeking a swift resolution in the complaint filed against Knox County Commissioners Bob Thomas and Charles Bustler last fall.
"The Ethics Committee is made up of volunteer citizens who have taken on a very difficult task for no renumeration," Jacobs said. "I thank them for their time and commitment to making sure our elected officials abide by the rules and policies they swore to when taking office."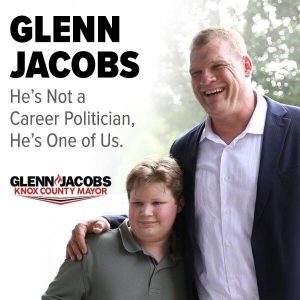 Jacobs is a Republican candidate for Knox County Mayor. A career with WWE spanning nearly 25 years has afforded Jacobs the opportunity to perform in front of millions of fans across the United States and in over 40 countries around the world but he has chosen East Tennessee as his home. He is a resident of East Tennessee of over 20 years and a small business owner. His business, Jacobs Insurance Associates, is the local champion of the Kindness Revolution, a national anti-bullying initiative. Along with his wife Crystal, he founded Kane's Crusaders, a non-profit organization with the mission of bringing joy to the chronically ill teenagers of East Tennessee. Jacobs also serves on the advisory council at East Tennessee Children's Hospital as well as the board of the Halls/Powell Boys and Girls Club.