Phil Bredesen didn't appear at any 4th of July celebrations over the past week, leaving Tennesseans to wonder where he spent Independence Day. Was he at his $2.4 million mansion in Jackson Hole, Wyoming? His $1.2 million waterfront home in New York? Or just taking the week off? We are all left wondering where's Phil?
Here's how Phil recognized Independence Day on Twitter: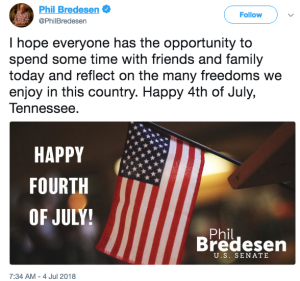 On the other hand, Marsha Blackburn participated in six Independence Day celebrations from Lancaster to Gatlinburg. She's out talking with voters and working hard to earn every single vote. Once again- the contrast between these two candidates could not be more clear.