Last night at Wallace Memorial Baptist Church in Knoxville, TN New Destiny Productions in partnership with Abraham Productions presented the first of Beyond Amazing Tour. The tour will kickoff later this year. It was a four group ticket, the second group was Karen Peck and New River. There are a couple more videos on my youtube channel page here from last night, in addition to the two below.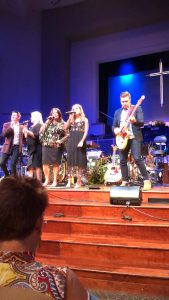 The current #1 song on Southern Gospel radio, "You Gotta Be Saved".
"I am Gonna Wear a Crown" with High Road and Emily Ann Roberts joining in.