This morning in the Big Metal Shed on the Hill aka Knox News Sentinel Building the League of Women Voters of Knoxville/Knox County hosted State Senators Becky Duncan Massey and Dr. Richard Briggs. Lt. Governor Randy McNally had a previous engagement in Memphis.
City Councilmen Finbarr Saunders and Marshall Stair attended. Stair is a 2019 Knoxville Mayoral Candidate. Knox County School Board Member Evetty Satterfield and Knox County Trustee Ed Shouse attended as well.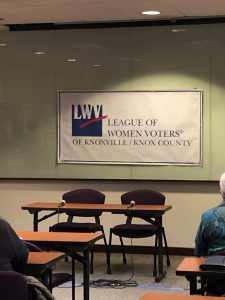 Earlier this week Senator Massey celebrated a Birthday, the League celebrated it today.