I received a notice from the Knox County Commission about a public meeting that Commissioners Carson Dailey and Larson Jay will be having on February 4 at 5 pm. An interesting location, (especially at 5 pm, Ye Olde Steak House, Right at dinner time)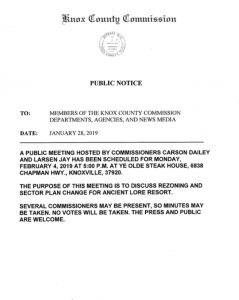 So, I contacted both Commissioners Jay and Dailey about why when there are public facilities they would have this meeting at a restaurant.
Jay has not replied at press time. Which recently he was most adamant to me about contacting him before publishing a story.
Dailey replied, "This meeting is concerned citizens that requested the meeting with the two Commissioners.  Robin King is the organizer and owns the Ye Olde Steak House.
That is why the meeting is there due to Robin King request."
Then a REVISED notice was sent out.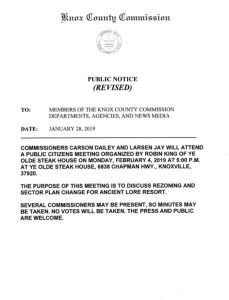 So, all Commissioners have the potential to show up on 2/4/2019. The ethics policy was revised last year to allow Commissioners to receive lunches and dinners at an amount greater than was previously allowed. So will dinners be comped to the Commissioners attending?
Will there be enough room for all media and public interested in the Boyd Ancient Lore Resort?
Again, my concern is the public and media not having adequate access to this meeting. I would suggest the Howard Pinkston Library, the South Knox Senior Center or anyKnox County School facilities gymnasium, auditorium or library during a time that the owner of Ye Olde Steak House could attend and not be cooking dinners and allow ALL citizens and media observe.
Interesting note, the meeting was being scheduled with Commissioners before the MPC meeting of 2/12 or the Review meeting of 2/14. Why the meeting is with County Commissioners before MPC when the Commission decides after the MPC decision is kinda the cart before the horse, in my humble opinion. surely County Commissioners would not lean or attempt MPC Commissioners decisions before a MPC vote.