Next week, Knox County Commission will vote on First Reading an ordinance to create or allow a Trap/Neuter/Vaccinate/Return program for feral and stray cats in Knox County.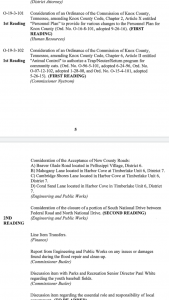 First, let's define feral and stray.
A feral cat is one that is too poorly socialized to be handled and therefore cannot be placed in a home as a pet.
A stray cat is a currently or recently owned cat who is lost or abandoned.
Over 10 years, one female cat and a single litter can produce 80 million cats. This Young-Williams animal center program will permantly reduce our stray cat population.
The way it works is cats are brought to young-Williams by Animal Control or Helpful Citizens or Community Cate caretakers. They are held from 3 days, if the cat is microchipped, they are held 5 days and the owners are contacted. The healthy cats are spayed/neutered, vaccinated, safely ear tipped and returned to where they were found.
Kittens or geriatric cats, injured and feeble cats and declawed cats are treated spay/neutered, microchipped and offered for adoption.
Its that easy.