Yesterday, I was tagged in a Facebook post of of the campaign of City Council candidate David Hayes. Hayes posted that he sent a press release to an fairly new local online news website and they sent back a very unprofessional response.
Here is snapshot of the Hayes campaign Facebook post.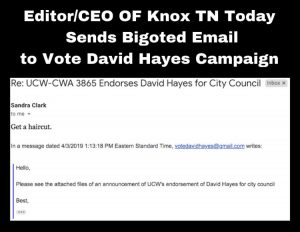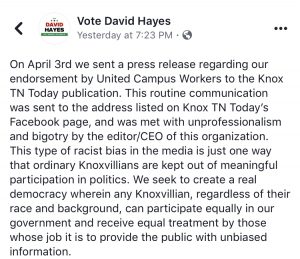 This not the first time, this individual has been accused of stepping over the line. Here in May 2006, a Nashville publication wrote about an incident where the person who was then Editor of the Knox News Sentinel owned Shopper News posted inflammatory rhetoric and apologized.
As a side note, people have alleged for almost 15 years that #TheMegaBullhornofTruth plays favorites. I will always publish press releases regardless of my opinion of you, your candidacy and whether you choose to be promoted here or not. Everything is shared.