The Knox County Commission had a great meeting and received a lot of information on Chapman Highway. The information including videos will be forthcoming in later posts.
As I was leaving the meeting, the Commission began discussing Commissioner Evelyn Gill's membership on the Joint Education Committee.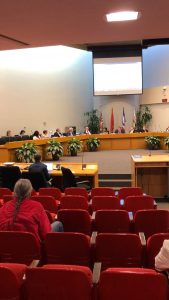 When I stepped back into the meeting and began recording Commissioner Larsen Jay was discussing details that he had read in the Knoxville News Sentinel about what they had reported from Gill's personnel file.
Gill then responded about it being a legal issue because he brought up her employment contract.
As a public school teacher employee her employee file, I believe, is open record. As an elected public official the court, I believe, views her as a "public official" which has a higher threshold for libel and/or slander.
Anyway, the Law Director is hanging his hat on having sent a letter to a citizen that requested an ouster investigation ouster on April 10 about his findings. The citizen sent a letter on April 9 to the Department of Justice asking for an investigation.
The Law Director disclosed in a public meeting on April 8 that was reported here on April 9 what his findings were in the investigation. The Law Director was asked by former County Commissioner Robert Lawrence Smith who was defeated on May 1, 2018 by Justin Biggs, Knox County Commissioner at Large Seat 11 for another term on Commission.
The Law Director also mentioned that Knox County Schools offered Gill another teaching position. It is NOT lost on this writer, who served on the Knox County School Board for four years, that in order to terminate a school teacher for cause. The legal advice and consent comes from the Knox County Law Director and his office.
Additionally, the Law Director stated this lawsuit had been going on 15 months. The lawsuit was filed in October 2018 and settled sometime before Knox News reported it about 4 weeks ago. Now, Gill retired in October 2017, following the investigation that began in early September 2017. Gill began serving on County Commission on September 1, 2016.
The Knox County Commission voted 10-1 to send this to next Monday's Commission agenda with no recommendation. Which means they will vote on the resolution again next Monday.
If it is approved, Gill will NOT be removed from Commission. She will be removed from the Joint Education Committee. The co Chair of JEC and then School Board Member in Gill's district supports Gill being removed.
I left the workshop meeting tonight thinking that if Gill remains on the Committee, I could see that the Committee might never met again as long as she serves, that is not beneficial to Knox County taxpayers and the Knox County Schools stakeholders.
They Commissioners are already discussing having the next meeting of the Joint Education Committee as a joint meeting with the Commission Finance Committee which includes all 11 Commissioners.
Stay tuned.