Knox County School Board Member compensation is the same as Knox County Commission. It's a salary and a monthly travel allowance, somewhere between $20 – $25,000 a year.
Thanks to my friend Vivian Underwood Shipe for posting on Facebook, drawing attention to it "If you value your right to speak at public forum …you better read this and call your school board rep and CALL to get on public forum next week!!
It is about to get VERY hard to speak to those YOU elected!!
IF Adopted…….
The chair can call meetings that EXCLUDE public forum!!!!!
FOUR minutes ONLY to speak!
#no more call in…
You have to fill out a form…
If not from Knox county…they can vote to not let you speak!
Your request has Got to arrive before 4 pm!
Told you to stay WOKE!" 
The School Board is planning to enforce you to submit your request to speak on public forum online, placing a time limit for you have to submit your online request and cut your time from 5 minutes to 4 minutes to speak.
The board has always said they will not answer your questions or comments, however they are publishing that the Board can ask you questions. It appears to be a one direction policy for the Board and Superintendent.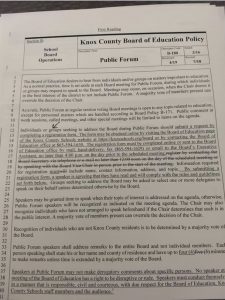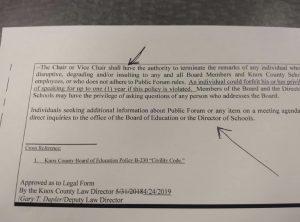 Four Board Members are up for election on March 3, 2020.
Oppose this change in policy NOW and PAY ATTENTION.
If you would like to contact them ALL and tell them to do the job they were elected to do and to listen to the citizens or resign and let someone else do it.
Email addresses below
Chair Terry Hill terry.hill@knoxschools.org
Vice Chair Susan Horn susan.horn@knoxschools.org
Evetty Satterfield evetty.satterfield@knoxschools.org
Jennifer Owen
Tony Norman (NEW Email Address)
Virginia Babb
Patti Bounds
Mike McMillan
Kristi Kristy