Have you ever been to Memphis? Have you ever eaten the World Famous Rendezvous Ribs from Memphis?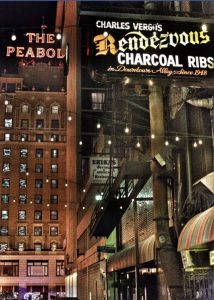 Well, thanks to InstagramTennessee and Charlie Vergos Rendezvous I won a 2 slab box of the Rendezvous Ribs. The ribs come in a box with an 18 oz bottle of Rendezvous sauce, a bottle of Rendezvous seasoning and a bag of the BBQ flavored popcorn.
The box is delivered the morning after they are cooked and frozen in Memphis. You can put them in your freezer or in your refrigerator. If you put them in the fridge, cook them within 7 days.
They give you the directions for heating them up, preferably on the grill, maybe in the oven or if you have too the microwave.
My ribs were magnificent. They tasted just like the ones I ate several years ago inside the Rendezvous, located in the alley of 52 South Second St. in Memphis.
I envision, ordering these on a regular basis.
You should give it a try too. Order them here.
Again THANK YOU Instagram Tennessee, Rendezvous