Good friend William "Bill" Schaad passed away Saturday. Bill was a friend to many. A longtime fixture in East Knox County (Carter Community) a Retired teacher at Carter and a former member of the County Court (County Commission) 1976-1982.
He was a proud father and grandfather. He will be missed by his family and friends.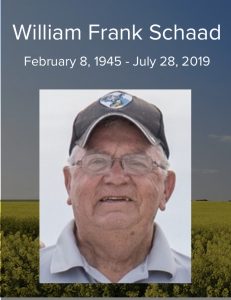 William F. (Bill) Schaad – age 74 of Strawberry Plains passed away Saturday, July 27, 2019.  Member of Immaculate Conception Catholic Church. Bill was a 1963 graduate of Knoxville Catholic High School and a 1975 graduate of Tennessee Technological University in Cookeville, TN.
He was a retired school teacher from Knox County Schools, Carter High School.  He was retired from the Tennessee Army National Guard 278th.  He was also a member of the Blue Knights Motorcycle Club Tennessee III Chapter.  Bill was active in Republican politics and served on the old County Court 1976-1982.  He was a member of East Tennessee Wood Carvers Guild.  Bill was a man who believed in service to his country, community, and most importantly, his family.
Preceded in death by parents, Robert A. Schaad and Jean Kelley Schaad; brothers, Robert A. Schaad, Jr., Claude J. Schaad, George A. Schaad, Charles E. Schaad.
Survived by sons, Robert J. Schaad and wife Brandy, Sidney F. Schaad, Charles G. Schaad; brother, Gerald E. Schaad; sister, Mary Jean Wilson of Atlanta; grandchildren, Emma, Catherine, Claudia, Robert J. Schaad II; nieces and nephews, Etta Jean Cason of Atlanta, Tommy Wilson of Atlanta, Robert Wilson of Atlanta, Alex Walker, John Walker, Morgan Schaller, Diane Campbell.
The family will receive friends 5:00-7:00 PM Wednesday, July 31, 2019, at Bridges Funeral Home.  Family and friends will gather 11:15 AM Thursday at East TN Veteran Cemetery-John Sevier for an 11:30 AM graveside service with Father Ronald Franco, CSP officiating.
Arrangements by Bridges Funeral Home, 5430 Rutledge Pike, 865-523-4999.