Democrat Presidential Candidate Mike Bloomberg came to Knoxville, TN tonight to open a Headquarters in the Mechanicsville community of Knox County. It is the same building that Republican Senator Marsha Blackburn used in 2018 for her successful campaign.
Democrat Activist Susan Jennings told me this is the first Democrat Presidential candidate to visit Knoxville since 2004. Now, President Obama had a Presidential visit or two as President. But this is Democrat Presidential candidate visit.
Former Republican Mayor Victor Ashe was in attendance and recognized before Bloomberg took the podium.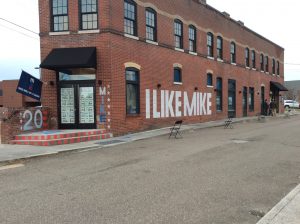 This is the 5th HQ Opening of 7 scheduled for Bloomberg 2020 in TN.
Of course with all campaign events, there are counter messengers. There were four present and two talked to me on camera.