I just received the notice, The Knoxville-Knox County Reopening Task Force will meet on June 3, 2020 at 4:00 p.m. via video conference call. The media/public can watch the meeting live by visiting here. The agenda is below.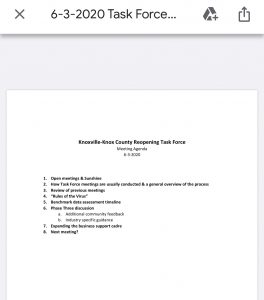 In the spirit of transparency, this meeting will be open to the public. However, to provide clarity on why previous meetings have not been held publicly, the information below is available. Task Force members discuss topics pertinent to reopening, and at times, make suggestions/recommendations to the public health officer. The Task Force does not vote on issues or make policy. This topic will be detailed further during the meeting.
We (Reopening Task Force) would like to thank our community for continuing to engage in the Five Core Actions and for showing compassion to others during these difficult times.
I just wanted myself and other media to watch it, in order to inform my readers what happened, BUT hey we can all watch, so to steal the words of Lamar Alexander, y'all come on along with me.