KNOXVILLE, Tenn.— Knox County Mayor Glenn Jacobs placed Chief of Staff Bryan Hair and Senior Director of Parks and Recreation Paul White on administrative leave, effective Tuesday, Oct. 13, after he was made aware of potential wrongdoing.
Mayor Jacobs brought in external auditing firm Pugh CPA to further evaluate the claims. The investigation could take several weeks.
"In the interest of transparency, I believe a thorough and speedy investigation is vital. My priority continues to be the business of Knox County."
Knox County Finance Director and Deputy Chief of Staff Chris Caldwell today asked for a meeting with the State Comptroller's Office.
In order to ensure the integrity of the ongoing investigation, no additional comments will be made until it concludes.
In an odd twist, Knox County Commission Chair Larsen Jay issued a statement via the Twitter.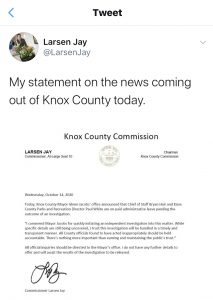 The statement read,
Today, Knox County Mayor Glenn Jacobs' office announced that Chief of Staff Bryan Hair and Knox County Parks and Recreation Director Paul White are on paid leave pending the outcome of an investigation.

"I commend Mayor Jacobs for quickly initiating an independent investigation into this matter. While specific details are still being uncovered. I trust this investigation will be handled in a timely and transparent manner. All county officials found to have acted inappropriately should be held accountable. There's nothing more important than earning and maintaining the public's trust."

All official inquiries should be directed to the Mayor's office. I do not have have any further details to offer and will await the results of the investigation to be released.
Of course, if you look at an online alternative news site that has written about it. The author posted an update with a play on the non profit that Jay founded.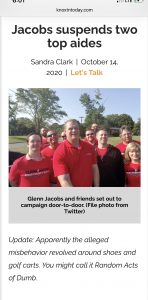 As new information is revealed, I will report it.