Yesterday I posted on my blog Twitter that Knox County Sheriff had appointed some folk to Chief (Assistant Chief) on Tuesday.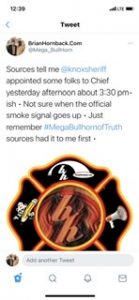 My sources indicated KCSO didn't want to announce the promotions until Monday January 11. But this evening it got posted to Facebook page of the Sheriffs Office.
Wes Norris will be overseeing KCSO's Office of Professional Standards-Internal Affairs, Civil & Criminal Warrants, Special Services Unit, Chaplains, Reserve Unit, Crossing Guards & SCAN.
David Amburn will be overseeing the Major Crimes, Property Crimes, Family Crimes, Juvenile Crimes, Forensics, Narcotics and Cold Case Units, as well as Investigative support, Emergency Management, Property and Fleet Services.
During the 2018 Sheriff campaign, I seem to recall Sheriff Spangler's campaign being critical of the number of Chiefs of the previous administration.