The Knox County Committee on Health and Economic Well Being aka the Kyle Ward Committee (he came up with the idea and proposed it to Knox County Commission) met yesterday to organize and have its first meeting.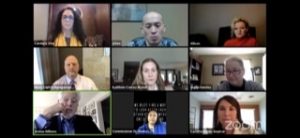 The Committee elected Dr. Joshua Williams as Chairman (I first met Dr. Williams a couple years ago when he was a Democrat candidate for Congress in TN's Second Congressional District)
They then elected Knox County Commissioner Dr. Dasha Lundy as Vice Chair. On first round of.nominations, no one wanted to be Secretary. Fortunately, Allison Oaks volunteered in order to keep the meeting moving along.
You can watch the meeting here or below.