College football bowls are on television this weekend with it all ending on Monday night January 7, 2013 with the National Championship game between the school to the south, Alabama and the school to the north Notre Dame. In that particular game, I am just going to enjoy the game. I don't dislike Alabama like some SEC football fans do. I have had moments where I like Notre Dame and you have to salute the efforts of Coach Brian Kelly and the Notre Dame team for the rebuilding effort that they have put together.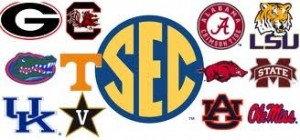 On Thursday evening my friend Sandy Loy, Owner and President of Construction Plus, Inc. were catching up on the world about us. The topic of which teams we most disliked in the conference came up. He told me his and it is based on his many visits to opposing teams stadiums and Tennessee home games. I don't have permission to share his, so I wont.
My two most disliked teams is LSU and Vandy. LSU primarily because of a trip I took in about 2000 or 2001 to Ole Miss. The game between Ole Miss and LSU was moved back to a 9 p.m. start. So, putting up with LSU fans in the Grove all afternoon and then during the game was unbelievable. Of course Les Miles is well there is not a printable word that I can say about him. As for my dislike of Vandy. It goes back to the old Tennessee days. I guess I want to carry on the George Cafego hate for Vandy. In addition, if you have ever attended a Lady Vols game like I did many years ago and for some reason I was around a bunch of Vandy fans. It just sealed my desire to continue the Cafego tradition. Read a 2007 post by Tom Mattingly "The Vol Historian" concerning Cafego, here.
I am now familiar with how to delete your email addresses and names on comments before the post with this new redesigned site. So, tell the thousands of readers of Shock And Awe what two SEC that you dislike the most. Please limit it to two.