One of my sources has spent a good amount of time in pursuing emails and requests for documents and going through them. An interesting tidbit has been found.
First, let's look at excerpts of a cover story that Jack Neeley wrote for the Metro Pulse. It was published on January 5, 2012. It was a Meet the New Boss story from we assume extensive interview with the new Mayor Madeline Rogero. UPDATE: The scans are difficult to read, here is the link to take you to the Metro Pulse article.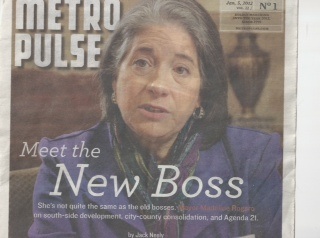 In this article the discussion of Agenda 21 and the City's involvement and what her role would be with any plan like Agenda 21. The BIG call out quote is didn't hear anything till about a month ago and had to research it. Not gonna do anything like that.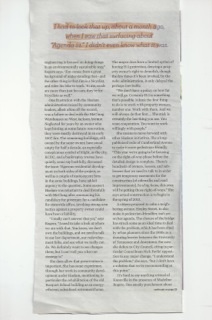 Let's look at where the actual quote comes from and make sure that is what Madam Mayor Madeline said.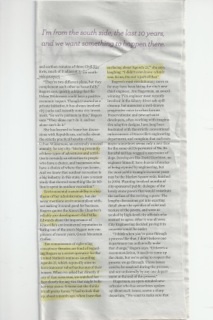 That is what she said. Interestingly though in early October 2012 when she was battling for her life against Successful businessman and Entrepreneur Mark Padgett. She received an email from Susanna Sutherland (an employee in the city's Sustainability program) who indicated that "Bill said she was under fire from Agenda 21 types". I am assuming Bill was probably Bill Lyons, (he was copied on the email) who was on the city payroll for Knoxville and the administration of Mayor Dan Brown. Of course it could have been Bill as in Governor Bill Haslam. She said here is what the Governor used as his pat answer. The Governor meaning Governor Bill Haslam. Was Governor Haslam had his subordinates involved in a Knoxville Mayors race? Say it ain't so.