Well, tomorrow is another day off for the Knox County Schools. Except Maintenance, Security, Administrators and the red brick building known as the A.J. Building.
It seems that several schools are having some heat issues. Inskip Elementary, West View Elementary, Sequoyah Elementary, the South Young campus. It seems there may be some water issues out at the Holston Middle School aka the Gibbs (East) Middle School. This doesn't include potential additional bursting pipes that could occur tomorrow as the thaw begins to occur.
I wonder if the "energy saving" initiative where all the school buildings heat and air are controlled by the Fifth Avenue Maintenance Building instead of every school individually is to blame for this? Let's assume that it is, did it really save energy or dollars when you are having to outsource and pay overtime to an already stretched then maintenance department to correct problems at any number of the 90 plus school buildings. It would probably be a safe bet that nearly every portable classroom building will have some freezing issues.
Here's hoping it is a quick fix and not too costly on the tax payers.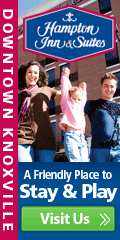 Click for more details.