The Democrats have liked my tweets asking questions about Dr. Richard Briggs not debating his Democrat opponent Cheri Siler. But, I put out a tweet today that I thought was an appropriate comparison on the one term Rep. Gloria Johnson and Eddie Smith campaign. It was my thoughts, not directed by the TN Republican Party, Knox County Republican Party or the Smith campaign. Apparently, Gloria Johnson liked it as she ReTweeted it.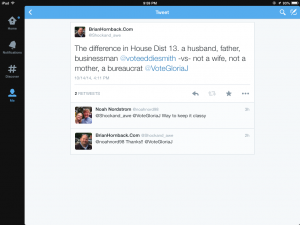 The TN Democrat Party apparently has issued a press release asking Republican to condemn my tweet. Condemn my first amendment right to free speech? So, Democrat of you people. I ain't exactly an activist Republican especially with pending litigation Kuhlman-vs-Hornback. Which is the current Knox County Republican Party Chair suing myself.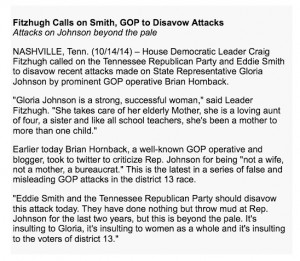 What is factually wrong with my tweet, Smith is married to Mrs. Lana Keck Smith, he is a father to a daughter and son and he is a businessman. Johnson to my knowledge is NOT married, does not have children and is a school teacher which is a government employee aka bureaucrat.
I realize Fitzhugh is a legislator and reading comprehension may be difficult for him. I am not sure of the educational opportunities afforded Fitzhugh in Lauderdale, Crockett and Haywood Counties. But, I wish him well. For the record, I did not criticize her for not being a wife and mother, just the fact (not a criticism) that she isn't. There is still time for Gloria to find Mr. Right and get married. But if she doesn't that is cool. It is her life.
I welcome the readership of the Democrats, appreciate the presser as it will provide additional name recognition of this website to the 3% of the state that are Fitzhugh, Johnson fans. I guess the Democrats really got pissed that I covered last Saturday Boyd Cloud Democrat Club in covering their Democrat nominee Charles Brown for Governor. Now, they want to treat me like Linus.