I received a friend request this morning on Facebook for a page saying it was Elmer Henderlight. Several individuals contacted me asking if this is "The Elmer Henderlight". I contacted Elmer's people and they assured me that all Elmer can do on the computer is comment on my website, primarily because the love of his life introduced him to it sometime ago. In fact, his initial post from a few days ago came the exact same way.
Elmer has asked me to inform all you all, Ohe is NEVER going to be on Facebook. Two if he were he wouldn't use a damn donkey as his profile picture. Three he sure wouldn't make his second post some stupid bullsh** about pushing Congressman Duncan out of office so that Timmy could find another government check.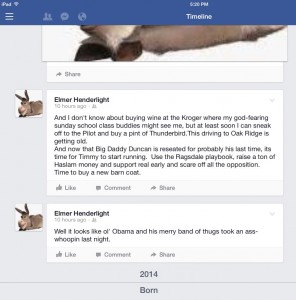 As for me, I think Timmy ought to find a real job for a while. After all twice in his political career he has had to appear before an ethics committee in Nashville to explain how campaign funds were comingled in his personal funds. Of course he had someone else to blame. Just stating information reported in the news.
Facebook has been notified. Don't be fooled.