Sheriff Jimmy "J.J." Jones has now entered the fray of this E-911 radio procurement situation. Here is the letter that he has sent to the legal counsel. Knoxville Mayor Madeline Rogero and Knox County Mayor Tim Burchett have both decided to mount the same white horse and attempt to save the day for Harris, Knoxville lobbyist Moxley Carmichael and News Sentinel. The only question is which Mayor will be on the front of the horse and which Mayor will be holding on to the other Mayor for the horse ride from the City County Building to the 911 building.
Now, to the real issue. Jones points out that Burchett nor Rogero have attended previous 911 Board meetings to understand the issues from the actual users of the system. All that Burchett and Rogero have done is taking selfies, ribbon cuttings and school lunch room visits for the County Mayor and the City Mayor off to Washington to suck up to President Obama, the same President that doesn't pronounce her name correctly.
While the County Mayor takes one time money for Christmas bonuses for general government employees and he discusses the extra money that he gives to the school system. The Knox County Sheriffs Department has received little in pay increases from the County Mayor in 4 years. It is February, budget time is 3-4 months away, so the angst among the men and women that keep our neighborhoods patrolled and our roads as safe as possible is very real. The priorities for this County Mayor has not been for the uniformed body of law enforcement. Now, he wants to give them equipment that has a track record in Pennsylvania, Wisconsin, California, Nevada and Florida to be nothing but a bust.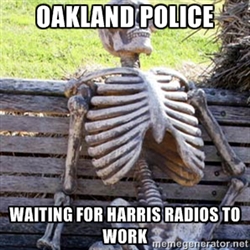 Why the County Mayor wants to give a blank check isn't clear, is it to keep the news paper on his side? Is it to keep a blue streak of being invited to parties for photos of he, his wife and his close confidants? The bottom line is the uniformed body is beginning to realize that this Mayor doesn't have them or their safety as his top priority.