On May 1, 2018 the Knox County Republicans will vote for their nominees to face any Democrat nominees on the August 2, 2018 Knox County General Election ballot and of course Democrats will select their nominees on May 1 as well.
Lee Tramel is running for the Republican nomination for Knox County Sheriff. He joins us for the duration of the Republican primary, from now through May 1, 2018, Early Voting is from April 11-28, 2018.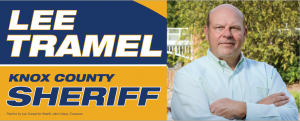 Tramel will kick off his campaign this Thursday from 5:30 until 7:30 p.m. at the Knoxville Expo Center located at 5441 Clinton Highway in Knoxville, TN Check out the Facebook event page, here.
Tramel is Chief of Administration for the Knox County Sheriffs Office. He has spent his entire law enforcement career at the Knox County Sheriffs Office. Tramel has always worked in the community for the community. Here is an article he authored for a parenting publication more than four years ago in helping educate parents on keeping our children safe.