Today is the City of Knoxville Primary Election. 40 area voting precincts will be open from 8 am to 8 pm.
If you need to get there, never fear, KAT (Knox  Area Transit) is having Free Fare Day today. So now you got a ride to exercise your responsibility to your City.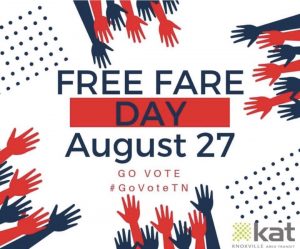 Today #TheMegaBullhornofTruth expresses gratitude to Fletcher Knoxville Burkhardt candidate for Mayor along with David Williams and Hubert Smith, Candidates for Knoxville City Council at Large Seat C for using this forum as part of their campaign.