This morning after posting this story. Larsen Jay posted on Facebook what he "says" he sent to County Commission yesterday.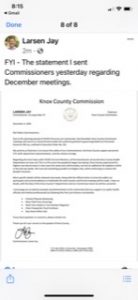 Commissioners Justin Biggs and Kyle Ward have told me, they learned of this change in meetings from the media. When I talked to both (individually) this morning they both have no notice from Jay.
By the way, NOT all media learned of this change. Because, I didn't receive it. It must have only been to Larsen's favorite media.
Anyway, in talking to Ward this morning he said to me, "I'm disappointed that he (Jay) didn't reach out to his co-workers and I wish he would work with us more."
I checked the online Commissioners Forum and Jay didn't even post it there yesterday.