Larsen Jay, at Large Knox County Commissioner kicked off his re-election campaign at Lakeshore Park this afternoon. He is currently facing Christine Cruz in the Republican Primary, she who has filed a Treasurers appointment.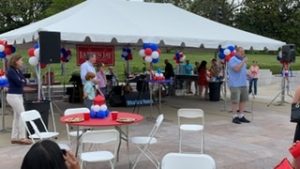 Fellow Knox County Commissioners were in attendance Randy Smith, John Schoonmaker, Richie Beeler and Terry Hill. Former Election Administrator Cliff Rodgers, Retired Court of Appeals Judge Charles Susano, Circuit Court Clerk Charles Susano, Jr. County Clerk Sherry Witt, Trustee Ed Shouse, Sheriff Tom Spangler, Knox County Mayor Glenn Jacobs (who introduced Jay) Watch the speech here or below Knoxville Judge John Rosson, Jr. Knox County School Board Vice Chair Virginia Babb, Loudon County Commissioner Julia Hurley, City of Knoxville honco Stephanie Welch.
Wild Blue Yonder performed, watch a clip here or below.
The media other than me, Knox Focus writer Ray Hill and Knox News writer Victor Ashe.