This is unusual read for most of my readers. If you don't like organized Christianity talk and fights in the Southern Baptist Church, move on. I will be back to my normal on the next post.
My family and I have been affiliated with Southern Baptist Church  (First Baptist Church Concord) since about 1994. I am not in a leadership role in the church, because personally am not the best Southern Baptist. In previous denominations, I am a Deacon and Elder of the Presbyterian Church, USA and at one time was a Lay Speaker of the United Methodist Church. We joined the First Baptist Concord congregation and denomination sometime after 1994. We raised three children through that faith family.
This week (June 15 & 16, 2021) in Nashville, the Southern Baptist Conventions 16,000 messengers will meet (they missed last year due to the pandemic) leaving President J.D. Greear as President for an unprecedented additional year in his term.
I am not a typical Conservative SBC Member, I am quickly tired of "the fights" several years ago and the barrage of politicization of the church. I am a Conservative, Christian. However, I do not use my faith as a crutch or a plank in my political Resume or platform. I get uncomfortable with the politicians that seek the pulpit in order to get votes or politicians that boast, they will not lose because their church will always elect them.
I believe God loves Everybody. Democrats, Liberals, Republicans, Conservatives, Libertarians, Independents and even the non political. We can get the politics anywhere, everywhere we want. But you can not always get the Word and God through his son Jesus Christ anywhere and everywhere.
In what I have watched and read I like Litton and Mohler, granted I am use to be drowned out by the vocal ones. So, whatever happens, happens.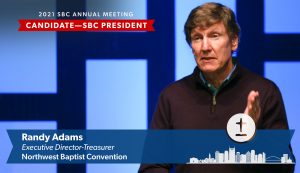 Randy Adams, an interview here.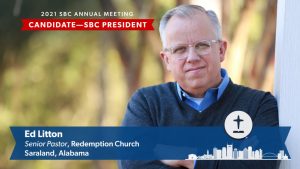 Ed Litton, a word from Litton here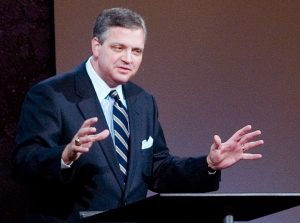 R. Albert Mohler, Jr.  a personal message, here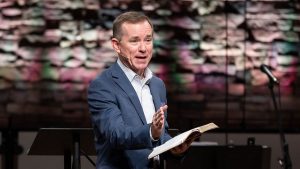 Pastor Mike Stone an interview here.