Lloyd Daugherty one of founders of TCU (Tennessee Conservative Union) passed away yesterday. I first met Lloyd in the parking lot of the office building that housed Don Sundquist and Fred Thompson's 1994 campaign headquarters and of course he was always opposed to a State Income Tax. In 1994, Sundquist was a West TN Congressman running for Governor and was 5 years before Sundquist proposed a State Income Tax. When Sundquist did that, Lloyd viewed it as an unforgivable act. But, the citizens of TN made it clear and no income tax passed the legislature. Of course, Lloyd had the "Ax the Tax" bumper stickers, lapel pins and the TCU even awarded Ax Tax awards to legislators.
Lloyd had some complications to a medical procedure which brought on his illness that he battled for years. He lost a leg and had a prosthetic leg. He had several different stints on radio hosting talk shows with his best bud, Kelvin Moxley. Lloyd and I didn't always agree on candidates but we enjoyed talking about them and it never got personal. Lloyd loved the South, Bojangles Fried Chicken (who am I kidding, he loved all fried chicken) and Jerry Lee Lewis.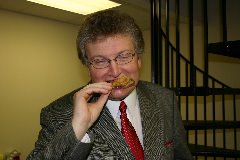 Sympathies to Lloyd's mom and other family members and deep sympathies to his loyal pal and best bud, Kelvin Moxley.