This Volunteer TV news story has the Knox County Mayor impugning the work ethic of his (my) generation.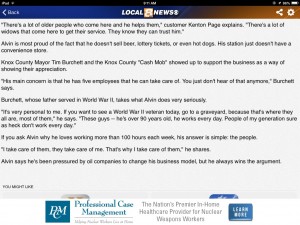 My generation (which is the same generation of the Mayor) works multiple gigs on all day, everyday. Not everybody grew up in West Hills subdivision and stayed in their parents house while the parents moved over into WestMoreland and then inherited that house. It is interesting to know that as County Mayor his admission is that he doesn't work everyday. Nice to know what a waste of tax payer dollars we are spending.
As for the cash mob location. That business can take a self righteous attitude that they don't sell lottery tickets, beer or hot dogs. In the business world if you don't provide what citizens need and desire, you find yourself at the risk of being out of business. odd' that earlier this week the Mayor was pumping gas at a local owned Pilot Travel Center as a photo op and then goes out on Saturday to act as if Pilot / Flying J is the evil empire.
What's it say that when business gets slow, you do not adjust to consumer needs and demands and then the government comes to provide a cash mob, that is a mechanism of the socialist government.