I have heard a couple names for TN House Majority Whip. One is Rep. Mary Littleton, she challenged Ryan Haynes to be TN Republican Chairman in April 2015 and was rejected by the TN Republican State Executive Committee.
Rep. Ron Travis has officially entered the race for House Majority Whip with a note to the Members of the Caucus.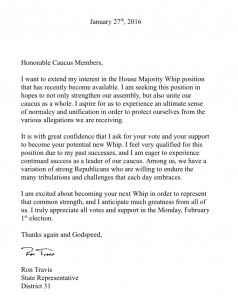 From what I understand Jeremy Durham could only have access to the Caucus and Caucus support by a motion and vote of the Caucus.