Former Knox County Sheriff Tim Hutchison informed me that the Donald Trump Campaign Knoxville area office is now open!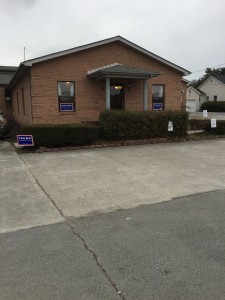 Stop by 113 E Emory Road, Powell today to pick up signs and find out how you can Help Make America Great Again!
Office hours will be Monday through Friday 3:00 pm – 7:00 pm with weekend hours soon to be announced.
Our office will serve also serve as a call center for those who want to help Mr. Trump by directly contacting the voters he needs to turn out on Election Day.
If you are interested in helping up staff this office, make phone calls or any of the other needs we have to help the campaign, please let us know.  Email us at info.TN@DonaldTrump.com for more information or to find out how you can get involved with the campaign in your area.