On April 4, 2017 there are 7 books that will release by Hachette Book Group, Faith Words or Center Street that I am reviewing. The first book of the the seven that I have read is 52 Amazing Things That Became True of You The Moment You Trusted Christ written by Stephen Kuhn. This is a second book for Kuhn. The first book he authored and released on May 1, 2014,  10 lies that men believe in porn. Kuhn is founder of Belt of Truth Ministries. Kuhn writes a blog, located here. You can find Belt of Truth on Twitter, here. You can find Belt of Truth on Facebook, here.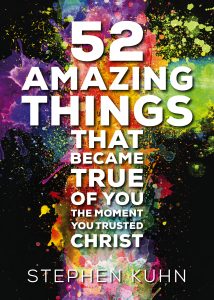 This book can be used as a 52 day devotional, a 52 week devotional or can be consumed in a matter of hours, as I did. As a Christ Follower, one that has accepted Christ as my Savior, sin and the resulting shame become a albatross around a Christ followers neck. The scene plays out in self talk, "I am a sinner. I'm worthless. No body loves me. I am a slave to my sin. But when the scene changes, but this time, think to yourself. I am in Christ and He is in me. I am a child of God. I am a saint. Sin has no power over me.
I encourage you to pick this book up and let it speak to you.