Democrat Candidate for Knox County Mayor Rebecca Deloa announced here on her Facebook page today that she is suspending her campaign. She vows to return in 2022.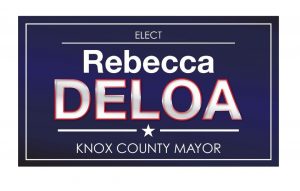 Rebecca Deloa To Suspend Mayoral Campaign
Knoxville, TN- I want to thank the Knox County community for their encouragement and support as I submitted my petition for Knox County Mayor. After considerable reflection, consideration, and deliberation, I have made the difficult decision to suspend my campaign. It would be my greatest honor to serve our community as Knox County Mayor, and to continue the incredible progress of our community, but I do not feel my campaign can run as efficiently and effectively as needed at this time.
Over the next three years, I will continue to be an involved member of the community and plan to re-submit my petition in the next County Mayoral race in 2022. With a fresh, well rounded, and capable team, I will be better able to represent and realize the hopes and dreams of the Knox County community. I look forward to meeting many of you over the coming years. Let us stay strong and work together over the next four years to ensure the continued success of our beloved county.
This leaves Rhonda Galman and Linda Haney as the active Democrat candidates in the May 1, 2018 Democrat Primary. Deloa's name will still be on the ballot.