No photo may be copied, screenshot, downloaded from the website or social media sites. You can share the Facebook post or RT the Tweets.
Got a letter from Knox County Sheriff Jimmy "J.J." Jones today as I am sure many thousands of others have or will. First, the letter is NOT paid for by taxpayer expense.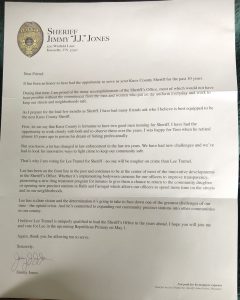 It talks about the two men that are running for Sheriff. JJ has worked with them both and he calls them both good men. He mentions that he was "happy for Tom when he retired almost 10 years ago to pursue his dream of fishing professionally." Jones goes on to mention the changes in the Sheriff's Department the last 10 years and Lee Tramel's involvement in those initiatives. Jones endorses Tramel for Sheriff in the May 1 Republican Primary.