Tim Burchett's campaign wrongly listed supporters on an invitation as being supporters and contributors to his campaign. He has previously been in front of the TN Ethics Commission three times, this would be #4 for campaign finance irregularities, if a complaint is filed. This is a $7,000 dollar falsification. Kudosto the Maryville Daily Times for this story and tracking down the facts.
The article stated that "The individuals were, Maryville City Councilman Tommy Hunt and his wife, Carol; Joe Anderson, a liquor store owner, and his wife, Mary Jane; Laura and Lee Chambers, a principal at Grandview Cemetery; financial adviser Kevin Painter; pharmacy executive David Pesterfield; Tina and Darrell Tipton, a Realtor; and Ruth and Steve West, former Maryville mayor and automobile dealer."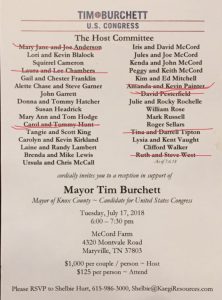 The most interesting part was when the Burchett campaign manager first told the Daily Times Reporter the list was accurate and then called back the same day to say it was an "honest mistake" and apologies had been issued. Of course the campaign appeared to  blame Kaegi Resources and they appeared to  blame the campaign manager. Of course, it's always the candidate that hires a campaign manager and consultants like Kaegi.
This is just more of the same from the County Mayor.