On Friday, a local Walmart highlighted contributions to non-profits and to the contributions made through the Walmart Foundation. Kudos and Thank You to Walmart for the assistance.
In the photo, the Farragut Mayor and a Farragut Alderman along with two Knox County Commissioners are in the picture for the check presentation. Was public notice given that Commissioners Jay and Schoonmaker were going to be together?
The public notice is NOT Walmart's responsibility, that is Commissioner Jay and Schoonmaker's responsbility to Sunshine such encounters.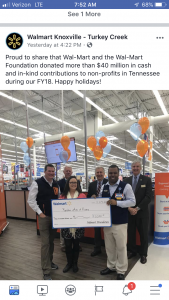 Commissioner Jay responded, "That Wal-Mart photo and check presentation was from a year ago, when I was not a Commissioner. Not sure why they reused it now."
The date on the check is April 24, 20 , the year is obstructed. If it is April 24, 2018 it is NOT a year ago. This would have been during the May 1, 2018 Primary Election. Jay was not officially a Commissioner then.  I will check to see if it was used in April and "reused" as Commissioner Jay says.