On Tuesday we posted where lame duck Law Director Bud Armstrong told the West Knox Republican Club on Monday night that the actions of Special Education teacher Evelyn Gill did not fall into an oust-able offense from her County Commission duties.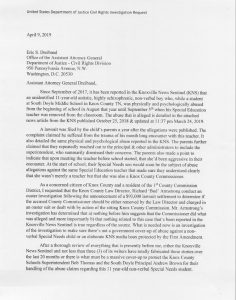 Now the man that asked Armstrong to investigate is asking the Department of Justice to investigate the investigation. Was it the Knox County Schools, the State of Tennessee agencies or the Knox County Law Director or all that allowed this non verbal, autistic young man to be treated as he was.
Again, Knox County paid $93,000 plus court cost, mediation fees etc. If Gill was innocent, why pay a settlement? Isn't a settlement an acknowledgement of guilt?
Listen to lame duck Law Director Armstrong answer Former County Commissioner Robert Lawrence Smith on the Gill incident at Monday's West Knox Republican Club below.