Ok, so Tuesday morning, I, (BrianHornback) asked to be able to view the Knox County Reopening Task Force meeting as media, NOT TO PARTICIPATE, simply to view. I was told there was one other media entity that had requested to view it as well, afterward Thursday morning, I find out it was WBIR. The decision was made NOT to allow us to view the meeting, obviously, that caused me to post a few stories, here, here and here.Then I posted this story about State Rep. Daniel, Lafferty and Zachary. The next story here was the response from the TN Coalition of Open Governments. The next story was following up from Wednesday's media briefing here.
I suspected it was Dr. Martha Buchanan's decision not to allow WBIR and myself, so at the Wednesday media daily briefing I was to first to ask questions, you can watch it and Buchanan does answer my questions.
So, yesterday as I read the CompassKnox daily email, I discover that Reopening Task Force city appointee Ryan Steffy Managing Partner of SoKno Taco was loud and unprofessional in his reaction to a couple media entities trying to do our job, which was to simply view a meeting affecting the general population and business. Just as I would assume he would like to be able to do, IF I went to his business and ordered a taco and/or a beer, he wouldn't want me to go back in the kitchen to tell him how to do it.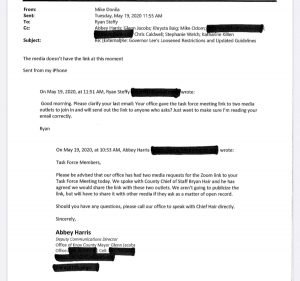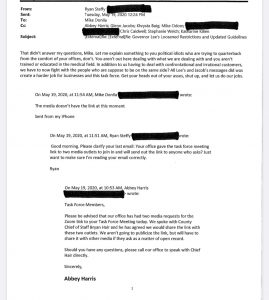 That didn't answer my questions, Mike. Let me explain something to you political idiots who are trying to quarterback from the comfort of your offices, don't. You aren't out here dealing with what we are dealing with and you aren't trained or educated in the medical field. In addition to us having to deal with confrontational and irrational customers, we have to now fight with the people are suppose to be on the same side? All Lee's and Jacob's messages did was create a harder job for businesses and this task force. get you heads out of your asses, shut up, and let us do our jobs. – Ryan Steffy
I asked Mike Donila to explain and respond to this, here is his reaction. Yesterday, we received two independent media requests – one from WBIR and one from Brian Hornback – to access the Zoom meeting for the Health Department Task Force. I asked the Mayor and Chief of Staff if we could provide the link. I hadn't talked to the law department at that point and wasn't sure the meeting was open to the public. You know how some of these committees are and some aren't. (Also, they didn't have any elected officials on them.) The Mayor and Chief were both good with us providing the link.
However, we were told that the Health Department and members of the task force, specifically Ryan Steffy, was not in favor of opening the meeting to the media. In fact, Steffy sent a very disparaging email, attacking myself, the Mayor, the Governor and the Mayor's Office in general. This was disturbing, since City and County officials have spent several months trying to build relationships. Steffy – a city-appointed member to the Task Force – through his email continued to perpetuate the narrative that city and county leaders cannot get along. From my understanding, there's been issues with him for a while. This is sadly unfortunate. I also talked to some city leaders and they said this is not how they would have handled the matter. They said they would reach out to Steffy to talk to him about this.
Regardless, I responded to his email as you will note and agreed that we, too, have faced similar problems. I did not respond to Steffy's unprofessionalism.
I did, however, reach out to Chris Caldwell (email included) to see if he could talk to city officials to see what we could do to rectify the matter.
What Steffy said is just not true. Mayor Jacobs and Mayor Kincannon and the Health Department are all working in unison and, in fact, the Task Force and Health Department, have come up with a plan for a Phase 2 reopening, which both mayors support.
Further, it was concerning that that a small business owner would suggest that the mayor's office isn't out in the field, dealing with the same problems as members of the task force. I can assure you that we have received more complaints and comments than he has. Additionally, it's concerning that he – a business owner that our office is trying to help – would want to block the entire media of Knoxville from hearing such a crucial meeting.
Now, I haven't been to SoKno Taco ever. I may now. However, if you visited there, especially during the pandemic, I hope you were not one of the confrontational or irrational customers that Mr. Steffy is referring too. My real job (blogging is not my first or real job, it is a hobby that became an LLC) is an essential one and I have been out in East Tennessee and encounter hundreds of front line workers who are doing their best to be excellent servants to the public. We are all doing our best, I have NOT encountered anyone like Mr. Steffy until I obtained these open records.